Deals from Wednesday
still worth checking out include Neil Gaiman and Christopher Moore on Kindle, GTA5, Breaking Bad, Hitchcock, and more.
Deals from Tuesday
worth checking out include
Star Trek Into Darkness
at 80% off, Kindle books, Tim Burton movies, and more. From
Monday's post
, the deals on
NCIS
,
The Simpsons
,
CSI
, Miyazaki movies,
BSG
, and actually most of the DVD and video game deals (including the $10 Vita games -- all but
Little Big Planet
) are still active.)
As always, there's a ton of good
Lightning Deals
if you've got the patience/luck. Deals today include
LEGO Star Wars
,
Disney Infinity
,
Avatar: The Last Airbender
,
Sookie Stackhouse
books, and more.
The Deal of the Day is on the
Dyson DC26 Multi Floor Compact Canister Vacuum Cleaner
for $179 (55% off). That's over $100 cheaper than other sellers.
The second DotD is on
Rockport Men's Shoes
at 50% off or more.
And the third DotD is on the
Logitech G500s Laser Gaming Mouse with Adjustable Weight Tuning
for $39.99 (43% off, about $25 off other deals).
The Kindle Daily Deal
offers $1.99 copies of books that became hit movies, including
Midnight Cowboy
,
I Am Legend
,
A Passage to India
, and more. The same page also has Chris Kluwe's
Beautifully Unique Sparkleponies
for $2.99, and is totally worth it.
There's a
massive Blu-Ray sale
, with literally hundreds of movies on sale for 50-75% off. Notable choices here include
Moneyball
,
X-Men First Class
,
Limitless
,
A Christmas Story
,
Rise of the Planet of the Apes
,
Fargo
,
Taken
,
Kill Bill
,
Harry Potter
,
Machete
,
The Illusionist
, and more. Basically, if you like a genre, it's represented here (and you can filter on the sidebar).
There's also a one-day sale on
Marvel Animated Hits
, with 43-50% off on a bunch of things ranging from the Phineas and Ferb Mission Marvel DVD to the recent X-Men and Avengers to the '90s Iron Man and Fantastic Four sets.
Universal Classic Monsters: The Essential Collection
on Blu-Ray is $55.99 (63% off).
On Blu-Ray,
Doctor Who: The Complete Fifth Series
is $22.98 (74% off), and
Doctor Who: The Complete Sixth Series
is $19.99 (78% off).
Also on Blu-Ray,
Dollhouse Season 1
is $10.49 (74% off), and
Dollhouse Season 2
is $11.49 (81% off).
Joining the Hitchcock deals from yesterday,
Alfred Hitchcock: The Classic Collection
(with
Rebecca
,
Notorious
, and
Spellbound
) is $14.96 (75% off).
On DVD, the
Marx Brothers Silver Screen Collection
(with
The Cocoanuts
,
Animal Crackers
,
Monkey Business
,
Horse Feathers
, and
Duck Soup
) is $25.99 (57% off), and really belongs in every collection.
And for people who really want a head start, you can pre-order the Blu-Ray/DVD/Digital edition of
Frozen
for $24.99 (44% off).
In toys, the
LEGO City Train Station
is $37.49 (25% off, but actually over $30 cheaper than other sellers, since most are selling it for above list).
And finally, if you're willing to share your wishlist on Facebook,
Amazon will give you $5 off a $35 order
. Note that the credit will only last until December 15.
(
http://whatever.scalzi.com/2013/12/05/whatever-holiday-shopping-guide-2013-day-four-fan-favorites/
http://whatever.scalzi.com/?p=23397
For the first three days of the Whatever Shopping Guide 2013, I've let authors and creators tell you about their work. Today is different: Today is Fan Favorites day, in which fans, admirers and satisfied customers share with you a few of their favorite things — and you can share some of your favorite things as well. This is a way to discover some cool stuff from folks like you, and to spread the word about some of the things you love.
Fans: Here's how to post in this thread. Please follow these directions!
1. Fans only: That means that authors and creators may not post about their own work in this thread (they may post about other people's work, if they are fans). There are already existing threads for traditionally-published authors, non-traditionally published authors, and for other creators. Those are the places to post about your own work, not here.
2. Individually created and completed works only, please. Which is to say, don't promote things like a piece of hardware you can find at Sears, shoes from Foot Locker, or a TV you got at Wal-Mart. Focus on things created by one person or a small group: Music CDs, books, crafts and such. Things that you've discovered and think other people should know about, basically. Do not post about works in progress, even if they're posted publicly elsewhere. Remember that this is supposed to be a gift guide, and that these are things meant to be given to other people. So focus on things that are completed and able to be sold of shared.
3. One post per fan. In that post, you can list whatever creations you like, from more than one person if you like, but allow me to suggest you focus on newer stuff. Note also that the majority of Whatever's readership is in the US/Canada, so I suggest focusing on things available in North America.
4. Keep your description of the work brief (there will be a lot of posts, I'm guessing) and entertaining. Imagine the person is in front of you as you tell them about the work and is interested but easily distracted.
5. You may include a link to a sales site if you like by using standard HTML link scripting. Be warned that if you include too many links (typically three or more) your post may get sent to the moderating queue. If this happens, don't panic: I'll be going in through the day to release moderated posts. Note that posts will occasionally go into the moderation queue semi-randomly; Don't panic about that either.
6. Comment posts that are not about fans promoting work they like will be deleted, in order to keep the comment thread useful for people looking to find interesting gifts.
Got it? Excellent. Now: Geek out and tell us about cool stuff you love — and where we can get it too.
~~~~~~~~~~~~~~~~~~~~~~~~
Автор картины - в заголовке, при копировании просьба указывать автора!
Oliver and the Seawigs
managed to blag its way into doing a month of work experience at Oxford University Press. So the staff there are documenting his time as a sort of Christmas advent surveillance system: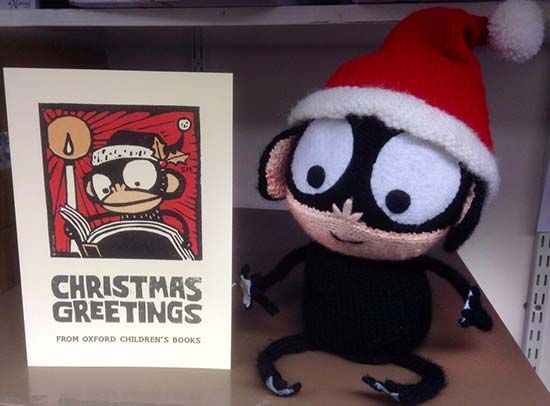 ...Look at it, so well behaved. I hope they realise Sea Monkeys can't keep this up for very long.
OUP, WHAT are you doing? Are you honestly going to let in this little rascal, with all your nice tippy coffee cups everywhere, papers to spill on, computers to hack?

I guess so. Well, I can't decide if the OUP staff are very, very brave or TERRIBLY NAIVE. Be warned. They are documenting what is sure to be their downfall on Twitter as
@OUPChildrens
, under the
#Seawigs hashtag
. Please ring the police or the nearest zoo to Oxford if you see it getting too messy.
Oh, and you can also
knit your own Sea Monkey
...but that would be downright irresponsible.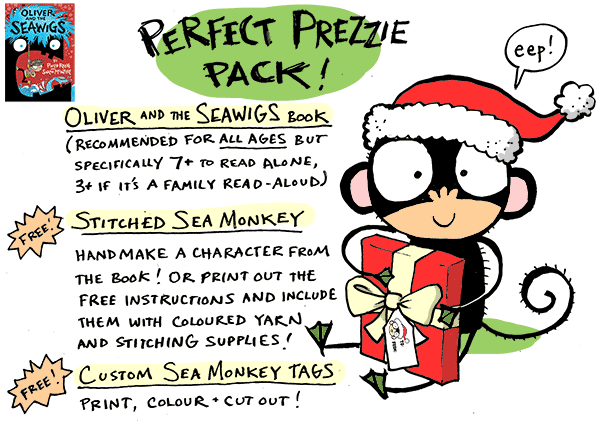 Somehow one of the Sea Monkeys from
http://englishrussia.com/2013/12/05/russian-death-train/
http://englishrussia.com/?p=134628
Right now we are going to get inside a railway car, not an ordinary one, but belonging to the combat railway missile complex. Compartment of the train and a corded phone inside. In the period from 1987 to 1994 there …
Read more...
http://englishrussia.com/2013/12/05/the-village-that-does-not-exist-anymore/
http://englishrussia.com/?p=134638
Just one of Russian villages that was left by all people, probably forever. Makridino. via cheger
http://englishrussia.com/2013/12/05/one-river-of-yakutia/
http://englishrussia.com/?p=134650
Indigirka is a river in Yakutia. Inyali is its big left tributary. These pictures were taken in the area where Inyali flows into the Indigirka which loops in this place. via karpukhins
http://englishrussia.com/2013/12/05/like-a-real-french-castle/
http://englishrussia.com/?p=134660
The famous castle of earl Vladimir Khrapovitskiy who gathered his wealth by selling timber. He had travelled to France and was delighted by French castles. And the French people told Vladimir that nothing similar would never exist in Russia. He …
Read more...
Sick of being sick. Everybody is sick, and it keeps lingering and coughing and snotting and tireding and just ugh. I've had about 10 cold-free days since late October and whinge whinge snivel complain.
Furthermore, my thinks to do list looks like this:
Thinks to do:
- ALL THE THINKS
*ded*
(x-posted from The Essential Kit)